Resource Center
PDF Downloads

MASTERPIPE™ PROFILER: ECONOMICAL CNC PIPE CUTTING SYSTEM
Download PDF
OVERVIEW: PIPE CUTTING MACHINES
Pipe cutting technology has advanced rapidly since the days of hand-held torches and wraparound paper templates...
Download PDF
CUTTING SOLUTIONS: HANDRAIL and FENCING
Download PDF
ABRASIVE SAW
The VERNON Tool™ abrasive saw relies on a simple combination of powered turning rolls and high speed abrasive wheels to perform straight cuts and weld preparation bevels...
Download PDF
SPECIFICATIONS: COMPUTERIZED PIPE CUTTING MACHINE
Download PDF
SPECIFICATIONS: MASTERTUBE PROFILING MACHINE
Download PDF
PRE-INSTALLATION CHECKLIST
Upon arrival of machine shipment...
Download PDF
DIAGRAM: TYPICAL MPM INSTALLATION
Download PDF
ARTICLE: ABRASIVE CAN BE GOOD
The pipe fabrication industry is faced with an interesting development...
Download PDF
ARTICLE: INSPECTION TRENDS (01/06)
A short fabrication time and complex T-Y-K joints presented challenges...
Download PDF
ARTICLE: INTRICATE STEEL WORK
A triangular steel-truss bridge over Tempe Town Lake, Arizona...
Download PDF
ARTICLE: ADVANCEMENTS IN PIPE CUTTING (09/04)
In the mid-1980s, U.S. heavy industry underwent a significant evolution...
Download PDF
PANTOGRAPH MACHINE
Download PDF
THE VERNON TOOL™ ADVANTAGE
At VERNON Tool™, successful partnerships are an 80 year tradition; Three generations of the Blackburn family have taken pride in building strong, successful partnerships through dedication to excellence, quaility products and service, and an understanding that success must be mutual to be maintined.
Our core staff of quality engineers and professional, dedicated employees welcome your interest in the VERNON Tool™ product line. We look forward to building and maintaining a successful partnership with your company.
As our customer, you can expect quality products and service, increased production, and reduced direct and indirect manufacturing costs. As a partner, you can expect our firm commitment to maintaining a mutaually beneficial business relationship.
Please contact us with any questions or comments you may have. We'll be happy to discuss, in detail, how VERNON Tool™ can have a positive impact on your company's production efficiency, overall work flow, and operational goals.
As always, we thank you for taking the time to visit us at VernonTool.com and look forward to future correspondence.
VERNON Tool™ is a Lincoln Electiric owned company.
REQUEST A QUOTE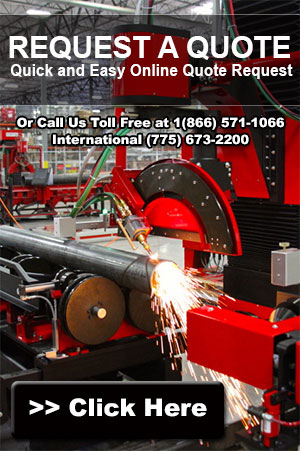 Our QuickForm is a simple way to complete a request for quote in less than 60 seconds: Request a Quote (QuickForm)

Our Sales Questionnaire allows you to provide very specific and multiple levels of detail in your request for quote: Sales Questionnaire

If you prefer to speak directly with a VERNON Tool™ sales representative, please feel free to give us a call at (775) 673-2200.  

As always, thank you for visiting our website and your interest in the VERNON Tool™ line of industrial pipe cutting machinery.
Financing Now Available
Customers have the option of taking advantage of a custom package of financial service options to make it easy to choose the plan that's right for you! Call a sales representative today to find out more (800) 452-1542.