VERNON Tool
Industrial CNC Pipe Profiling Machines
HEAVY DUTY
Our industry-leading pipe machines are manufactured in the USA and offer superior quality that is engineered for decades of cutting production. Pipe cutting systems are available with oxyfuel and plasma cutting solutions that cut and bevel pipe up to 60 inches in diameter.
LIGHT DUTY
In addition to nealy 100 years of heavy duty pipe cutting expertise, VERNON Tool now sets a new industry standard with an entry level, light duty tube and pipe cutter: MasterPipe® Compact Profiler
MPM - Pipe Cutting Machine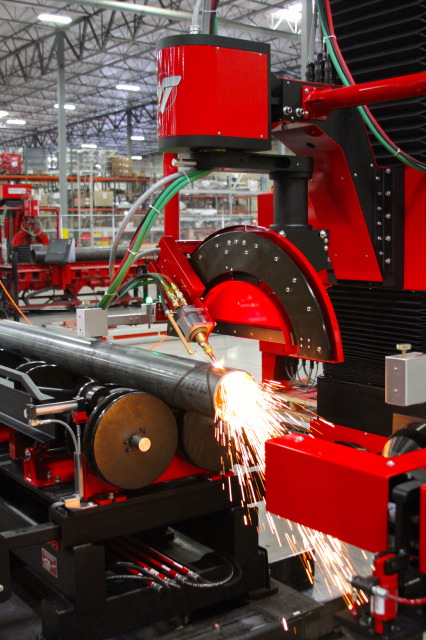 Servo driven rollers fully support and rotate pipe during cutting. Lifter conveyors engage for auto loading and unloading. Servo driven profiling axes position and orient torch for precise profiles. Automatic, servo driven height sensing system vertically compensates position for out of round pipe.
Capacity: 2" – 60"
No. of Axes: 4, 5
Operation: Automated CNC Profiling
Software: WinMPM, Visual Machine Designer
Cutting Op: Plasma, Oxy/Fuel
Types of Cuts: All
Types of Holes: All
Weld Prep/Bevel: Automatic, Manual
Load/Unload: Hydraulic, Powered conveyors
View Product Details
MasterPipe Compact Profiler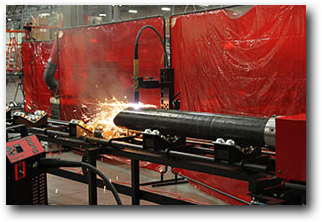 For many shops, cramped for space and on a tight budget, improving quality and boosting production can make all the difference. The MASTERPIPE® Mini Profiler can cut pipe or tubing to length quickly and efficiently. This entry-level pipe cutting machine with powerful dual-axis CNC controls has features which will reduce the time-between-cutting-operations and lead to real efficiency improvements.
View Product Details