Masterpipe® Compact Profiler
CNC Plasma Pipe Cutting and Profiling Machine
Accurate Pipe Cutting in a Small Footprint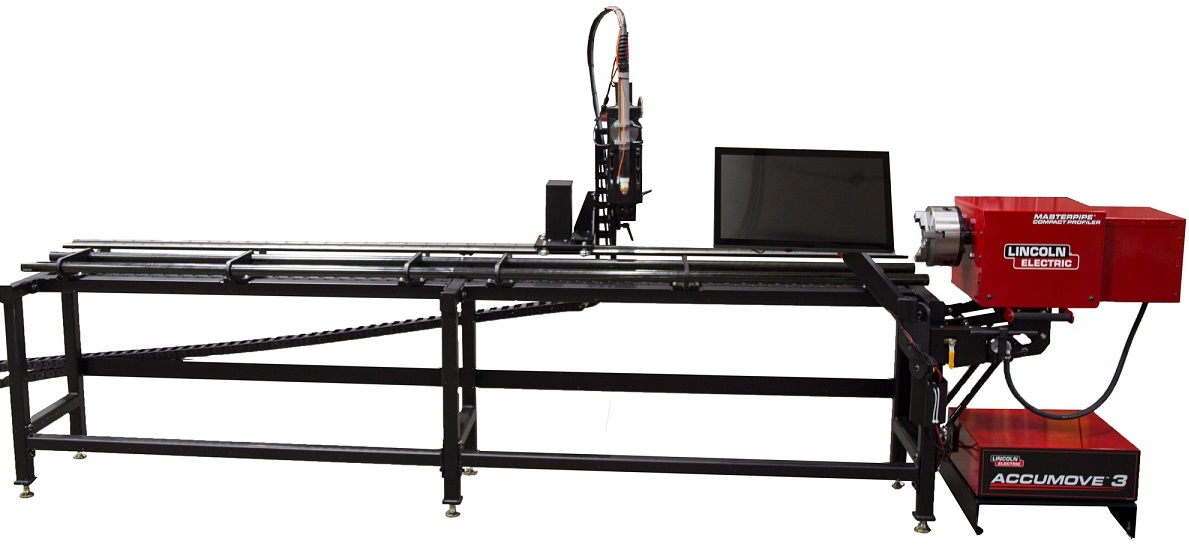 An Economical CNC Pipe Cutting Machine
The MASTERPIPE® Compact Profiler by Lincoln Electric® is an economical CNC pipe cutting solution that comes in a compact footprint. It can handle pipes with outside diameters between 2 and 8 inches, with an optional accessory that expands the capacity to hold one inch O.D. pipe. This machine is ideal for roll cage fabrication shops, handrail and fencing manufacturers, and many other small-to-medium-sized fabrication shops that are looking to increase the efficiency of profiling and cutting their pipes and tubes. This two-axis CNC pipe cutting machine has a footprint of only two feet wide and can rapidly profile aluminum, stainless steel, and mild steel pipes with ease.
Features like a floating 3-jaw chuck and a maximum cut speed of 200 ipm can reduce cycle times in both material loading and plasma torch pipe profiling. Five-foot expansions grow the machine to accommodate pipes and tubes up to 24-feet long.
User Friendly Pipe Profiling Technology
The powerful combination of Lincoln Electric's ACCUMOVE motion control technology and the user-friendly interface of Visual Machine Designer (VMD) will provide effective and easy-to-use CNC pipe profiling technology to all users. Shops with multiple operators will find that the highly intuitive software is easy to teach, yet powerful enough to handle your most demanding cuts. Our proprietary WinMPM pipe design software is embedded on the machine's computer and can be used to program pipe profiles from the pre-loaded library.
The MASTERPIPE Compact Profiler pairs a powerful gear train with a linear guidance system to ensure fluid motion. It also uses a variable-angle torch arm that enables the machine to cut at bevel angles between 0 and 45°. This feature is ideal for shops that need to weld prep their pipes. The standard Arc Voltage Height Control (AVHC) reads the arc voltage throughout the cut to compensate for pipes and tubes that are out of round.
Sample Voltage - For Accurate Cuts, Every Time
This can make a big difference when cutting imperfect pipes. Users can activate the "Sample Voltage" feature with the press of a single button on the touch-friendly VMD interface. This feature reads the arc voltage at the pre-programmed cut height for the first ½" of the cut and assigns that highly accurate reading for the duration of the cut. This standardizes the varying arc voltage readings that become skewed from a multitude of factors that are unique to every shop.
Each feature on this machine has been engineered to increase efficiency, standardize cut quality, and expand the capabilities of your business. Please give one of our CNC pipe profiling professionals a call today! They'll be happy to talk with you about your applications and how the machine can improve your processes. Call us today at 775-673-2200
Watch the Video Below to See Cut Samples from the MasterPipe Compact Profiler!
Machine Specifications
Input Power
120V/1Ph/60Hz (machine)
200-600V/1Ph-3Ph/50-60Hz (plasma)
Traverse Speed
200 ipm (5.08m/min max)
Pipe Capacity

Production capacity: 1-8in (2.5-20.3cm)

1 inch to 2 inch OD pipe cutting requires an
additional pipe support accessory.

Weight Capacity
Maximum total weight: 1,000 lbs (453.6 kg)
Maximum weight per foot: 100 lbs
Travel - Longitudinal
24ft (7.32m)
Maximum Cutting Speed
200 ipm - limited by cutting process (5.08 m/min)
Bevel Angle
0-45° manual bevel
Pipe Rotation Drive
Precision planetary gear box and belt drive<
Linear Motion
Precision rack and pinion
Cutting Process
Plasma
Temperature (operating)
40-100°F (1-38° C)
Pierce Capacity

FlexCut 80: 0.75 in.

Fume Extraction
Custom quotes available upon request
Types of Cuts
Straight
Saddle
Multi-Miters
Tee
Lateral
Multi-saddles
Gusset slots
Double miter
Elbow support
Pipe to cone
Reinforcing pad
Bumpers
Overlaps
Brochure Download
REQUEST A QUOTE
Our Sales Questionnaire allows you to provide very specific and multiple levels of detail in your request for quote: Sales Questionnaire

If you prefer to speak directly with a VERNON Tool™ sales representative, please feel free to give us a call at (775) 673-2200.

As always, thank you for visiting our website and your interest in the VERNON Tool™ line of industrial pipe cutting machinery.
Financing Now Available
Customers have the option of taking advantage of a custom package of financial service options to make it easy to choose the plan that's right for you! Call a sales representative today to find out more 1-866-571-1066.