MPM® - Industrial CNC Pipe Profiling Machine - Uses Plasma and Oxy/Fuel
The Vernon Tool® MPM®
An Industrial CNC Plasma Pipe Cutting and Profiling Machine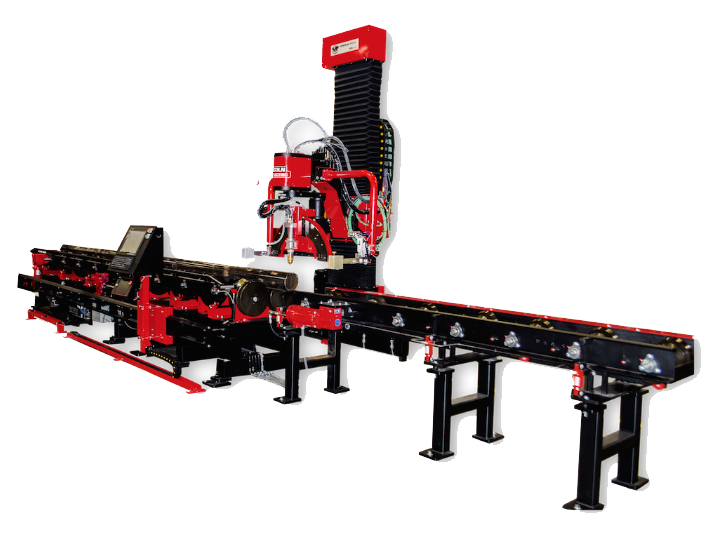 The Ideal Machine for:
Process and Power Piping
Mechanical and HVAC Contracting
Shipbuilding
Offshore
Marine Construction
Structural Pipe Trusses
Pressure Vessel Fabrication
Types of Cuts:
Straight
Saddle
Multi-Miters
Tee
Lateral
Multi-saddles
Gusset slots
Double miter
Elbow support
Pipe to cone
Reinforcing pad
Bumpers
Overlaps
Cutting Methods:
Oxy Fuel
Lincoln Electric® Spirit® II FineLine® High Definition Plasma Cutters

Safer, Single Operator Material Handling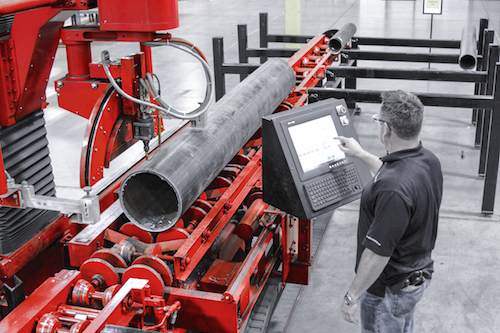 Convey raw metal pipes onto the machine bed to be cut and profiled by a single operator. Roller bed CNC pipe profilers have proven to be more efficient and safer for all involved. Pipes are fully supported in the cutting bed. Please click here to download the complete MPM Catalog.
Vernon Tool MPM Visual Flyover
The Vernon Tool MPM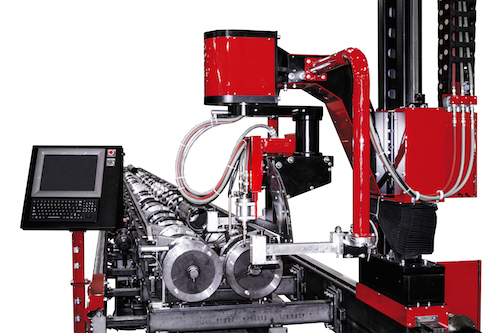 The Vernon Tool MPM is a robust and proven pipe profiling solution that has been known to last 50+ years in the field. The build and design of this industrial CNC pipe cutting machine will be sure to stand the test of time in some of the harshest cutting environments on the planet. Whether your pipe cutting application requires oxy-fuel or high definition plasma cutting, you can rely on the Vernon Tool MPM to consistently provide high quality beveled cuts. Machines are available in 4 and 5 axis configurations, with expandable machine beds and conveyor lengths to fit your business's unique layout. Professionals are standing by to discuss an industrial pipe profiling system that would be best for your business. Call us today at 775-673-2200.
Vernon Tool Product Brief - Specifications PDF Download
See below for specifications for various aspects of the MPM system.
Please download the Product Brief for a PDF version of the highlights of the machine here.
Our full product catalog is also available. Please download the complete MPM Catalog here.
Machine Bed Specifications
| | Model 0224 | Model 0348 | Model 0460 |
| --- | --- | --- | --- |
| Pipe Diameter | 2"-24" | 3"-48" | 4"-60" |
| Maximum Weight Per Foot | 250lb/ft (113 kg/m) | 1,000lb/ft (680 kg/m) | 1,500lb/ft (1,004 kg/m) |
| Maximum Total Load | 5,000 lb (2,250 kg) | 22,500 lb (10,200 kg) | 50,000 lb (22,700 kg) |
| Maximum Cutting Speed | 200 ipm (5 m/min) | 200 ipm (5 m/min) | 200 ipm (5 m/min) |
| Rotation Speed | 0-200 ipm (0-5 m/min) | 0-200 ipm (0-5 m/min) | 0-200 ipm (0-5 m/min) |
| Conveyor Rotation Speed | Up to 50 RPM | Up to 50 RPM | Up to 50 RPM |
Profiler Specifications
| | |
| --- | --- |
| Number of Axes | 4 or 5 |
| Max Torch Travel | 41 ft (12.5 m) |
| Max Torch Angle | ±70°(Oxy)/±45°(Plasma) |
| Out-of-round Compensation | (2) Analog Proximity |
| Intersection Angle Range | 1-179° |
| 5-Axis Bevel Head Rotation | ± 360° |
Vernon Tool Academy
The Vernon Tool Academy is a complete online training course for your MPM machine. Available 24 hours a day, 365 days a year, you can log on at anytime and go through any topic related to your machine and get the training or answers you need. This program is ideal for businesses with a need to bring a new operator through a training program quickly so they can start operating the machine with high levels of expertise. Video topics include Installation, Operator's Training, Calibrating the Head Unit, Maintenance, and Troubleshooting. This gives you an excellent resource that is always available to you giving you the confidence you need to add this machine to your operation. For full details on Vernon Tool Academy, please visit this page.
Time Studies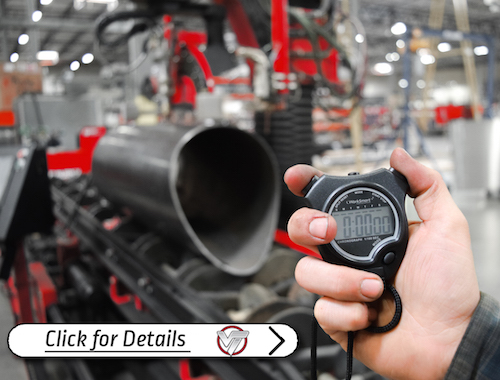 Material handling can make up for a large portion of the time invested in processing pipe. Vernon Tool decreases this time through the implementation of conveyors and roller beds. This combination fully supports the material during cutting. Two operators can operate the machine safely and efficiently. The Vernon Tool MPM is designed for this process by powerful conveyors to load the pipe into the cutting bed.
It's safe, efficient, and easy to implement. Check out our time studies to see how the Vernon Tool MPM pipe cutting machine can further optimize your facility's operations.
PypeServer Software
PypeServer software is a powerful addition to your Vernon Tool machine.

Click here for full details on the capabilities of the software.

• Reduce the costs of pipe fitting, grinding and filling by cutting parts more accurately. PypeServer provides actual CNC cut-paths that account for cutter kerf, plasma beam divergence, custom bevels, root gap offsets, torch swirl direction, lead-ins, lead-outs and pierce angles.

• Eliminate paper parts lists with PypeServer's spool importing and job planning that schedules and tracks every part through cutting.

• Easily update change orders and track jobs by knowing what has been cut - and when.

• Save hours by nesting parts right at the machine, where operators maximize pipe use and quickly respond to welders' needs.
• Optional: Uniquely label parts with CAD Design IDS, pipe heat numbers, QR codes, customer, job, and spool number.

Click here for full details on the capabilities of the software.
Accessories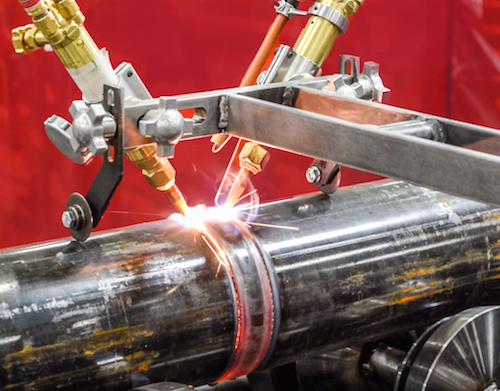 Preheat Torch
Two-torch Straight Cut Off
Inkjet
Fume Extraction
Call us today at 775-673-2200.
Financing Available - Request a Quote Today
You have a variety of financial service options to make it easy to choose the financing plan that's right for you! Call a sales representative today to find out more 1-866-571-1066. Click below to Request a Quote today!