About Us
The combination of quality, speed and safety has become the benchmark for profitable pipe cutting and pipe beveling operations. VERNON Tool™ meets these challenges with technologically advanced and specialized pipe cutting machines that more domestic and international industries rely on for high production and precise fit-up.
*Industries We Serve:
Power Generation
Shipbuilding
Offshore
Pressure Vessel Manufacturing
Process Piping
Structural
Space Frame Fabrication
Our History

1930 - 2011: 81 YEARS OF MANUFACTURING EXCELLENCE
The VERNON Tool™ Company was founded in 1930 by two Mobil Oil Corporation executives who obtained a lease on all Mobil shops and facilities in VERNON, California. They contracted with Mobil to perform all shop and field work in the oil fields of Long Beach and Signal Hill.

At the request of Mobil in 1937, Mr. Ward Blackburn was invited to join the company as managing partner.  He subsequently purchased the VERNON Tool™ Company, as well as the assets of the Western Engine Company, as early manufacturer of large gas and diesel engines. 

In 1941 VERNON Tool™ was unable to negotiate a suitable shop lease and operating contract with Mobil and, upon their expiration, purchased property and moved to Alhambra, CA.   As a long time employee of Ingersoll Rand, Ward Blackburn intended to focus on sales and service of industrial pumps and compressors.  During World War II the company was principally engaged in government machining and assembly work.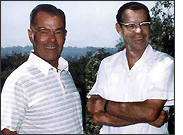 Upon conclusion of the War, VERNON Tool™ rekindled its old affiliations with various manufacturers serving the oil and gas business in Long Beach and Signal Hill.  Ward Blackburn, with the assistance of his sons, Bill and Jack, developed and acquired the manufacturing rights of several different proprietary products including shale shakers, pumping units, tool joints and desanders.  Among the most important lines were the VERNON Hydraulic Tube Expanding Machine, Greenwood Quick-closing (Emergency Shutoff) Valves, and the VERNON Pipe Cutting Pantograph Machines.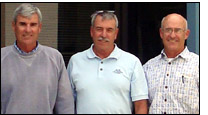 The company continued to grow and in the early 1970's, Jack's three sons, Bill, Bob and Jim, joined VERNON Tool™ Co. Effective January 1, 1975 VERNON Tool™ Co. purchased property and relocated to a facility in Oceanside, Ca.  The three brothers subsequently purchased ownership of the company and managed it until its recent acquisition by Lincoln Electric Company, Cleveland, Ohio, in November of 2007.  
Our Future
Our relationship with Lincoln Electric brings a great opportunity to expand the VERNON Tool™ presence and gain new customers via Lincoln's global sales network.  Lincoln Electric's commitment to providing the most innovative, cost-effective, quality welding and cutting solutions is one that has guided the company for more than 100 years. Integrating the VERNON product line with Lincoln's world leading welding solutions creates a metal fabrication team offering the ultimate in quality, service, and lasting dependability.
 
At VERNON Tool™ Co, we look forward to our new relationships as well as continuing the family atmosphere tradition and corporate integrity instilled by Mr. Ward Blackburn.  We welcome new customers, employees, and partnerships to help ensure the longevity of this enterprise.
DETAILS: LINCOLN ACQUISITION
Lincoln Electric Announces the Acquisition of VERNON Tool Company, Ltd. CLEVELAND, Nov. 30, 2007/PRNewswire-FirstCall/ --

Lincoln Electric Holdings, Inc. (Nasdaq: LECO) today announced that it has acquired the assets and business of VERNON Tool Company, Ltd., a privately-held manufacturer of computer-controlled pipe cutting equipment used for precision fabrication purposes. Based in San Diego, California, VERNON Tool's annual sales are approximately $9 million. Lincoln Electric expects that the acquisition will not have a material impact on earnings in the first year.

"VERNON Tool is a solid company, and we are pleased that its experienced management team will be joining Lincoln as we add the company's product line to Lincoln's product offering and global sales network," said John M. Stropki, Chairman and Chief Executive Officer. "This acquisition adds to Lincoln's ability to support its customers in the growing market for infrastructure development."

Founded in 1930, VERNON Tool Company provides solutions to difficult pipe fabrication and process flow issues in industrial construction, as well as heavy fabrication uses in the infrastructure and energy-related segments. Two of the current owners of VERNON Tool will remain with the company.

Lincoln Electric is the world leader in the design, development and manufacture of arc welding products, robotic arc-welding systems, plasma and oxyfuel cutting equipment and has a leading global position in the brazing and soldering alloys market. Headquartered in Cleveland, Ohio, Lincoln has 36 manufacturing locations, including operations, manufacturing alliances and joint ventures in 19 countries and a worldwide network of distributors and sales offices covering more than 160 countries. For more information about Lincoln Electric, its products and services, visit the Company's Web site at http://www.lincolnelectric.com.

The Company's expectations and beliefs concerning the future contained in this news release are forward-looking statements within the meaning of the Private Securities Litigation Reform Act of 1995. These statements reflect management's current expectations and involve a number of risks and uncertainties. Actual results may differ materially from such statements due to a variety of factors that could adversely affect the Company's operating results. The factors include, but are not limited to: the effectiveness of operating initiatives; currency exchange and interest rates; adverse outcome of pending or potential litigation; possible acquisitions; market risks and price fluctuations related to the purchase of commodities and energy; global regulatory complexity; and the possible effects of international terrorism and hostilities on the Company or its customers, suppliers and the economy in general. For additional discussion, see "Item 1A. Risk Factors" in the Company's Annual Report on Form 10-K for the year ended December 31, 2006.

SOURCE Lincoln Electric Holdings, Inc.